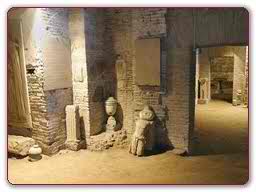 THE "TITLE"
TESTIMONY OF ART AND FAITH IN THE TITLE
1. Mosaics and frescoes
The title was adorned with mosaics and frescoes.
The traces of the mosaic floor still exist, very simple black and white tiles, and those of some ornamental motifs seem to be of the third century (when the premises were used for commercial purposes).
In the ninth century, on the initiative of Sergius II, various sacred images were painted and the fragments of which remain more or less in good condition.
In the early seventeenth century all these pagan and Christian frescoes were painted by Marco Tullio for Cardinal Francesco Barberini. Now the copy of the drawings is preserved in the manuscript Barb. Lat. 4405 of the Vatican Library.
In one of the rooms of the current title, there is a mosaic made at the request of Pope Symmachus in honor of St. Sylvester at the beginning of the sixth century.
Now almost entirely deteriorated, beyond repair, the mosaic represents the Saint at the foot of Pope Symmachus.
During the work carried out by the Filipinos in the seventeenth century, it was taken care of reproduction, but with the misinterpretation of the mosaic (Madonna and St. Silvestro).
2. Other archaeological finds
With the work of 1930, in one part of the title, it was set up like a small museum with artifacts found during the excavations.
For its description, please refer to the following paragraph.
On the premises of the same title, there are also several memorial plaques of the events surrounding the basilica, and the gravestones of some superior generals and two other religious Carmelites.
Until 1787 the gravestones were in the current basilica.
Taken from elaborate:
THE TITLE OF EQUIZIO AND BASILICA OF ST. MARTINO AI MONTI
edited by Emanuele Boaga
for Basilica Santi Silvestro e Martino ai Monti
Via del Monte Oppio 28-00184 ROME
tel. 06-47.84.701 - fax 06-47.84.70.63
e-mail: Questo indirizzo email è protetto dagli spambots. È necessario abilitare JavaScript per vederlo.
Parish of the Central Sector - Prefecture V – Rione Monti - 1˚Municipality
Presbyterial title: Cardinal Kazimierz Nycz
Entrusted to: Carmelites (O. Carm.)
Current Pastor: Fr. ADRIAN Ghiurca (O. CARM.)
READ ALSO: